Improve my website?
10 Reasons Why Most Web Sites Aren't Reaching Their Full Potential

Why are so many websites under achieving?

There are a number of common misconceptions made unknowingly when a website is created.
Many of these errors or misconceptions are simply overlooked because of the lack of knowledge available to the every day business owner. When it comes to creating a website that captures the readers attention & interest and creates enough desire for them to take action, there are a number of common 'must haves' that every website needs to integrate to become successful.
We have set to work to give you a simple to follow guide of what your website needs to release it's full potential and act as a benefit driven, enquiry generating, selling machine for your company!
1. Make Your Website Personal
When surfing the web you are inundated with offers, "look at me's" and fancy sales letters. Some of them, heaven forbid, even turn out to be scam that robs you of your money. With so many options out there the everyday web surfer has become skeptical to trust just anyone.
There is a simple solutions you can implement to your site to show people there is a 'real person' behind your site. Show them that you are real, that they can contact you, see a picture of your team and let them identify and trust you.
One of the best mediums you can use is uploading video and/or audio to your site. This allows them to see and hear you, thus helping them to gain familiarity and trust. When a customer trusts you the chances of them doing business with you increase.
2. Create a Purpose or Main Focus For Your Website
What is your websites purpose? Is your site full of graphics, is it difficult to navigate or hard to understand, or is your website geared up to provide a clear and well defined purpose, direction and outcome you'd like them to achieve.
Your website must be designed to lead your customer to your desired end results as clearly as possible - and not have them being easily distracted or confused by other options. If it is too hard to understand or navigate through they will leave!
Define your focus – Is it to have them subscribe to hear more (like this site), buy your product, use your services or simply make an enquiry… decide on your purpose and make it easy for them to fulfill this, once you do you will notice an increase in conversion.
3. Keep Your Graphics And Heading Simple
Many businesses waste thousands of dollars having a graphically attractive website created, yet study after study show that a Simple & Clean website with a benefit driven headline can out sell "pretty websites" by as much as 300%!
Make sure your headline CLEARLY spells out what you are offering and how your company can make their life easier, solve a problem, give them more money, make them younger, more beautiful, cooler, hotter… etc etc
4. Keep Your Web Content Uncluttered
Keep your content clean and simple. Choose 1 or 2 fonts, up to 3 or 4 colours and make sure there is a method to the sizing and emphasis you put on words.
If you have no logical reason for emphasizing a word or making some text larger than others, your reader will become confused and not understand the true message you really need to get across.
Your structure needs to be set out so that if someone opened your website and scanned through it they would understand immediately who you are, what you're offering and how it will help them, thus enabling them to make a fast decision around your product or service without having to read the whole page.
5. Focus On The Benefits
Many companies use their website to talk about themselves and their achievements. Yet when it comes to a prospective client looking for a particular product or service, the last thing they want to read about is you. (Harsh I know!)
They want to know WIIFM 'what's in it for me' and how using your product or service will make their life better, make them more money, make them younger, healthier, happier, cure a disease, improve their lifestyle etc etc. What ever your product make sure they know the BENEFITS it will give them by using it.
It is also very handy to use testimonials (see ' Are your testimonials making people sick?' ) here. It creates 'social proof' for your prospects and encourages them to trust you
6. Highlight Your Credentials
Customers want to trust what they are buying, and who they are buying from (e.g. see my Bio page here). You need to tell them why you are the best, most knowledgeable person or company in your chosen industry. Show them your experience, your qualifications, and show them how professional you are in delivering this to them. Provide validation of your results.
7. Use An Email Capture Mechanism
You must develop a way to capture your visitors details and be able to invite them back! Use a short, precise form to get their email address, and then follow them up and create a relationship (like this one here ). Give them a free offer – a simple how to report, an mp3, an audio or newsletter, anything! Just make sure you capture their details before they leave or you will lose them forever.
8. Offer The Best Payment Options
Credit card is the most widely accepted method of payment, so provide the easiest way of paying to your potential customers.
You could also offer a phone in service to accept credit cards for people not comfortable paying online. Also look at offering services such as PayPal and Direct Debit, make it super easy for them to pay!
Again, if its too hard or the facility is not available they will go somewhere else to find it!
9. Focus On The Customer Rather Than Promoting Yourself Or Your Product
Make sure you are focusing on what the customer will want and need or the problem they are facing. Try and avoid talking too much about yourself and what you've achieved. Your customer only wants to see how you can help them, if you do talk about yourself make sure its answering a question that can help your customer.
It is also very handy to include a FAQ's & contact page so they can approach you and ask questions, help them understand that you care about them and you are there to help, not just take their money (which some people have a massive hang up about!) this helps to take away from any objections they may be pondering that's stopping them from purchasing
10. Emphasize Your Guarantee
Make your guarantee a selling point. What will you give or do for your customer if they aren't happy with your product or service? Help them feel more secure by offering a guarantee. Money back guarantee's are implied with most products nowadays, but emphasize why you a guaranteeing your product!!!
**Make sure if you offer a guarantee you stick by it! I've recently had a company that offered a guarantee and when I received the product it wasn't what I expected and haven't been able to get a refund let alone contact them. Not happy…**
It still surprises me how often a company offers a guarantee yet doesn't advertise it everywhere, if you have an air-tight, iron clad guarantee let everyone know about it!
Improve my website? Apply these 10 simple tips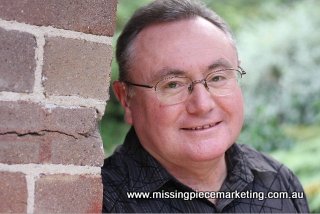 To summarise, your web page is another marketing tool and it needs to provide you with results. There is no point driving traffic there if it is not set up to capture details and sell a product or service.

Follow the simple guidelines listed above and your website will be more effective than a lot of other websites out there.


Till next time,

© Paul Johnson 2017
Missing Piece Marketing

To subscribe for more, click on the link to your left or click here