You don't know Paul? . . . that could be an advantage ;-)
WARNING! Don't read any further, if you don't need to
'Boost your local work - without advertising'.
[If you are simply checking Paul Johnson out, scroll down a few paragraphs - thanks]
First of all, here's what Missing Piece Marketing is all about:
In your small business, what's bugging you?
Have you ever wished you could get more local work - without advertising?
Do you ever wish that the 'ups and downs' in business would just level off, to give you consistent work?
Have you ever said:
"How can I win more quotes for work?"
"How can I improve communication skills?"
"What are advertising ideas that work?"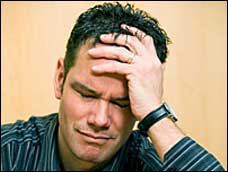 "How do I get referrals?"
"How can I get more word of mouth work?"
"Where can I get good business ideas that work?"
"What do I say on my web site to get more work?"
"How do I craft my LinkedIn profile to get more referrals?"
"My wife is complaining - She's sick of me working long hours and never seeing the family"
"Am I wasting my money on advertising? What are the tricks to advertising that works?"
If you have . . . you're in the RIGHT place . . .
Here's how Missing Piece Marketing helps you move ahead
in business and in life:
Paul's reports are a lighthearted way of getting the answers you need.
Bite sized - single subject - straight to the point - just like you like it. (Oh, and with plenty of real life stories you can identify with) If you are not already receiving the small business reports, just fill in this form:
(Did I mention the small business reports are FREE?)
---
About Paul Johnson.
Now, what about Paul Johnson? It always pays to check people out these days.
Paul's an author, mentor, lecturer, coach, presenter .
Paul has spent over 23 years in the Sales and Marketing world.
The last 17 years he's worked with 'tradies' and small businesses, in various advertising media companies and networking organisations, to get their 'new business' enquires up.
With a Diploma of Management (small business marketing), Cert IV in both Small Business Management and Training and Assessment, he passes on his wealth of experience lecturing part time in both the Business Services and Marketing Departments at Blacktown TAFE (Western Sydney NSW Australia).
His new courses (The Secrets of Getting In and The Secrets of Winning More Quotes), and his Workshops (e.g. How to boost your local work - without advertising), bring together all his 'coalface' experience in Advertising, Customer Service and 'Getting Into' those who make the decisions in larger organisations, who make it difficult for new players to 'Get Known'.
His book 'How to be a People Person' is getting rave reviews and is changing lives.
Paul is happily married to Suzanne and have 4 children. Together he and his wife maintain a beautiful Blue Mountains property that they have built for couples to use for weddings, for free (Click here).
"G'day Paul, we are firing on all cylinders at the moment. Can't keep up with the work. The Secrets of Getting In programme worked a treat. Kind Regards, Craig."
Craig Cook – Atlantis Plumbing
(his mobile/cell +61 411134020 if you want to call him)
p.s. Here is Craig explaining how he added a regular $2,000 per week to his business. Hard to believe I know, but check it out for yourself:
Join Craig and fill in this short form to get Paul's FREE small business reports:
---
---
p.s. Paul publishes a humorous FREE report. :-)
If you haven't already started to receive Paul's reports, would you like a sample?
(It's a report called '17 Ways Advertising Companies can Rip You Off!' . It comes to you FREE when you fill in the form above)